Back to top
KDM Engineering Announces New Promotions & Opportunities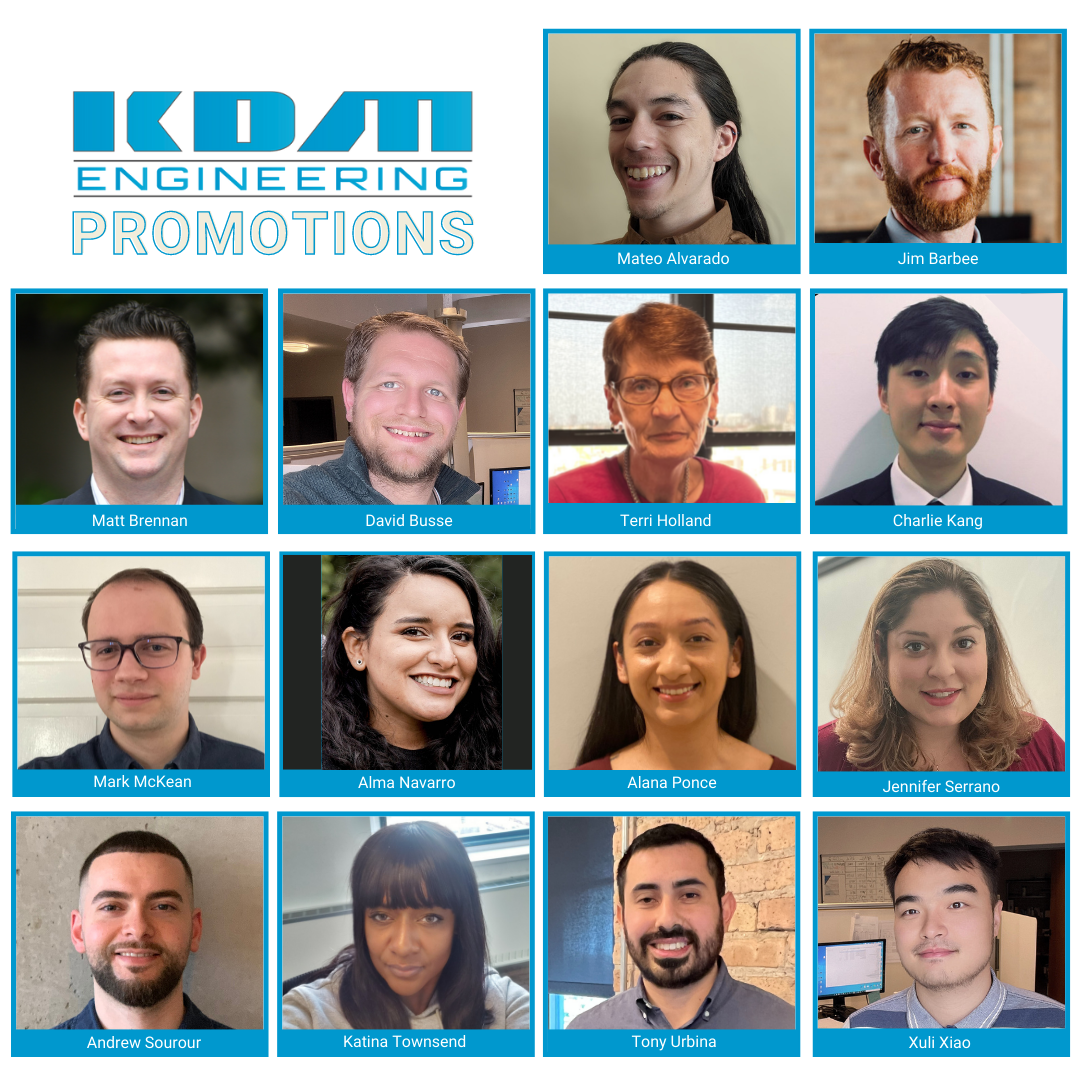 (January-June 2022)
Congratulations to 14 KDM Engineering team members who recently earned promotions and new opportunities within our firm. We believe in professional and personal growth, and we empower each employee to create their own path to success with the company's full support. Please join us in recognizing their outstanding accomplishments.
KDM Leadership
Jim Barbee, who started at KDM-Chicago in 2019 as an electrical engineer, was promoted to Engineering Manager, joining KDM's leadership team. He will be responsible for coordinating technical activities of programs, developing and mentoring the engineering staff, and monitoring the engineering work to ensure compliance with industry standards. As an engineer, Jim likes to solve problems, and in his new role, he will use those problem-solving skills to ensure projects run efficiently and effectively. Jim also is passionate about fostering growth in knowledge and experience in our engineers. "I really love working at KDM and want others to as well."
KDM Team
Mateo Alvarado was promoted to Project Manager at KDM-Chicago. He has been with KDM for 6 years and is inspired by his current and former managers to emulate their best leadership practices. Mateo hopes to genuinely impact the people he works with and set up everyone for success while also recognizing that each person will need different things to succeed. That awareness allows him to better anticipate and act on people's individual needs.
Matt Brennan, a KDM alum since 2017, was promoted to Enterprise Software Developer. Matt has a background in software development and wrote software for years that required large amounts of data to be stored and displayed for end users. He is looking forward to combining those skills with the knowledge he learned as a project manager at KDM to improve our data management and streamline our processes and procedures.
Dave Busse was the proper fit for a new opportunity as the Assistant Project Manager–West Monroe. Dave joined KDM 4 years ago and has been an integral part of our East Coast operations, managing the entirety of our Baltimore office. Dave will be responsible for inventory management, project tracking, and meeting preparation for BGE as well as the PHI utility companies. With Dave's thirst for knowledge and drive, we know he will excel in this role.
Terri Holland, who started at KDM-Chicago in 2017, was promoted to Project Controls Coordinator II–West Monroe Project. She is looking forward to challenging herself and expanding her capabilities as she learns more about this new program. Terri provides critical support in this role by being proactive and providing support to the project team which allows them to focus on the technical aspects of the program.
Charlie Kang, who joined KDM-Chicago in 2019, was promoted to Systems Administrator for our ERP system, Unanet. Charlie's goal is to help manage project-related tasks or general inquiries in the Unanet system supporting our engineers and project management team so they can use the system effectively. Charlie hopes to make an impact in this role by streamlining the system to achieve its full potential at KDM!
Mark McKean was promoted to Electrical Engineer I after one year as working as an entry-level electrical engineer at KDM-Chicago. He is looking forward to taking the lead on projects and putting to use the practices he's learned here. Mark said he plans to use the opportunity to learn how to problem solve more effectively and to improve his communication skills as a team leader.
Alma Navarro was promoted to Project Manager-West Monroe at KDM-Chicago. After seven years at KDM, Alma decided that her passion was business management. So, when the opportunity came to manage the West Monroe advance metering group (AMI), we could think of no better person! Alma will be responsible for managing the relationship between multiple vendors across all Exelon-operating companies and West Monroe partners.
Alana Ponce, who joined KDM-Chicago in 2019, was promoted to Assistant Project Manager in our partnership with West Monroe. West Monroe provides Alana the challenge she is looking for with the freedom to think for herself and come up with new ways to work efficiently. She hopes to use the opportunity to show off her leadership skills and develop her own processes as she takes the lead on projects.
Jennifer Serrano was recently promoted to Talent Acquisition Specialist at KDM-Chicago. Jennifer started in the permitting department at KDM in January 2022, and based on her performance, dedication, and positive attitude, she quickly found an opportunity related to her prior experience in talent acquisition. When asked what she wants people to know about this role, Jennifer said: "Networking is a huge part of this job. Social media platforms help with this, reaching out to as many people as possible. Connect with me on LinkedIn and share my job posts with your network. You never know whose life you might change with your share!"
Andrew Sourour, who came to KDM-Chicago in March 2019, was promoted to Staff Accountant II. Over the years Andrew has proven his capabilities, taking on more assignments and responsibilities within the department. He is an MBA candidate furthering his education in Finance. In his new role Andrew is looking forward to working on project analysis with the hopes of increasing our efficiency and profitability while providing solutions and lessons learned.
Katina Townsend was promoted to Project Manager II based on her tenured experience at KDM. Katina, who joined KDM-Chicago in 2015, will still be responsible for managing our large projects, but will also take on the direct supervision and training of junior project managers. Her goal in this role is to make her team's job less stressful by keeping the project organized and on schedule, and she is looking forward to becoming an even better project manager!
Anthony Urbina joined KDM in May 2020 and was recently promoted to Senior Permitting Coordinator. In this role, Tony is looking forward to taking a larger leadership role in the permitting department and on behalf of KDM with our clients. He knows that he can be a vital resource to the other permitting coordinators and the engineering teams for all things related to permitting. We are looking forward to Tony's continued success in the permitting department and at KDM!
Xuli Xiao was promoted to Project Engineer at KDM-Baltimore. Xuli joined the firm in 2017, and in his new role, he is looking forward to using his experience to mentor other team members at KDM and help them grow. He says cooperation and communication are keys to success as an engineer and we couldn't agree more!