Back to top
KDM Engineering Announces New Promotions & Opportunities (July-December 2022)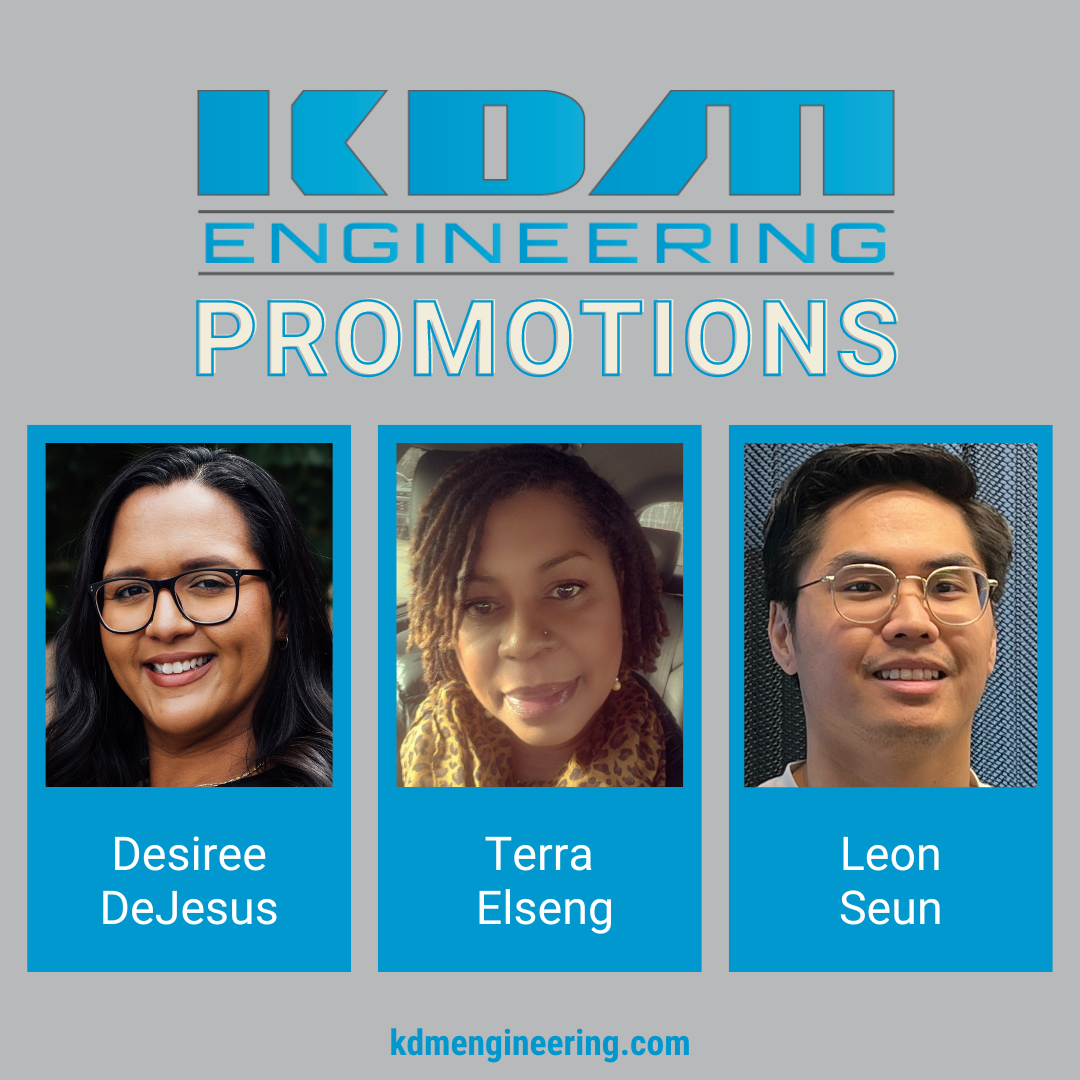 Congratulations to 3 KDM Engineering team members who recently earned promotions and new opportunities within our firm. We believe in professional and personal growth, and we empower each employee to create their own path to success with the company's full support. Please join us in recognizing their outstanding accomplishments.
Desiree DeJesus was promoted to HR Manager in October 2022. She leads and directs human resources and employee relations, including hiring and interviewing, administering pay and benefits, and enforcing company policies and practices. Desiree started with KDM in November 2021 and is looking forward to continuing her work with employees while putting her own flare on the HR Manager role. She believes the HR team members are employee advocates, providing resources as well as structure, teaching, integrity, and empathy to all KDM employees. She wants to ensure that employees and the company have a solid foundation to continue growing.
Terra Elseng recently transitioned to a new role as Assistant Project Manager. She first joined KDM in May 2022 as our Quality Manager Assistant where she worked closely with the engineers to ensure adherence to industry standards, tracked QA review, and assisted in development and execution of QA/QC processes. In her new role, Terra monitors projects throughout various stages ensuring projects stay on budget and on schedule. If our engineers are running into roadblocks and need additional help, Terra assists them in finding those resources and getting the tasks completed. She works hard to ensure our projects run smoothly from start to finish with a focus on communication, planning, and execution.
Leon Seun was promoted to Electrical Engineer I in June 2022 after a year with KDM. Leon says that he wanted a career in distribution engineering and chose KDM for its culture and accomplishments. When he started with KDM, Leon gathered field data, and worked on projects including AMI/DA, Make Ready, and Voltage Optimization. In his new role, Leon has been peer mentoring and training others on gathering field data, pole analysis, and distribution engineering. He hopes to learn more about other distribution systems including substation, transmission, and telecommunications. He is also looking forward to taking on more responsibilities and training other engineers. "In less than 2 years at KDM I've already had the pleasure of working with so many great people who continue to motivate me!" he said.