Back to top
KDM Engineering Announces Promotions & Opportunities (January-June 2023)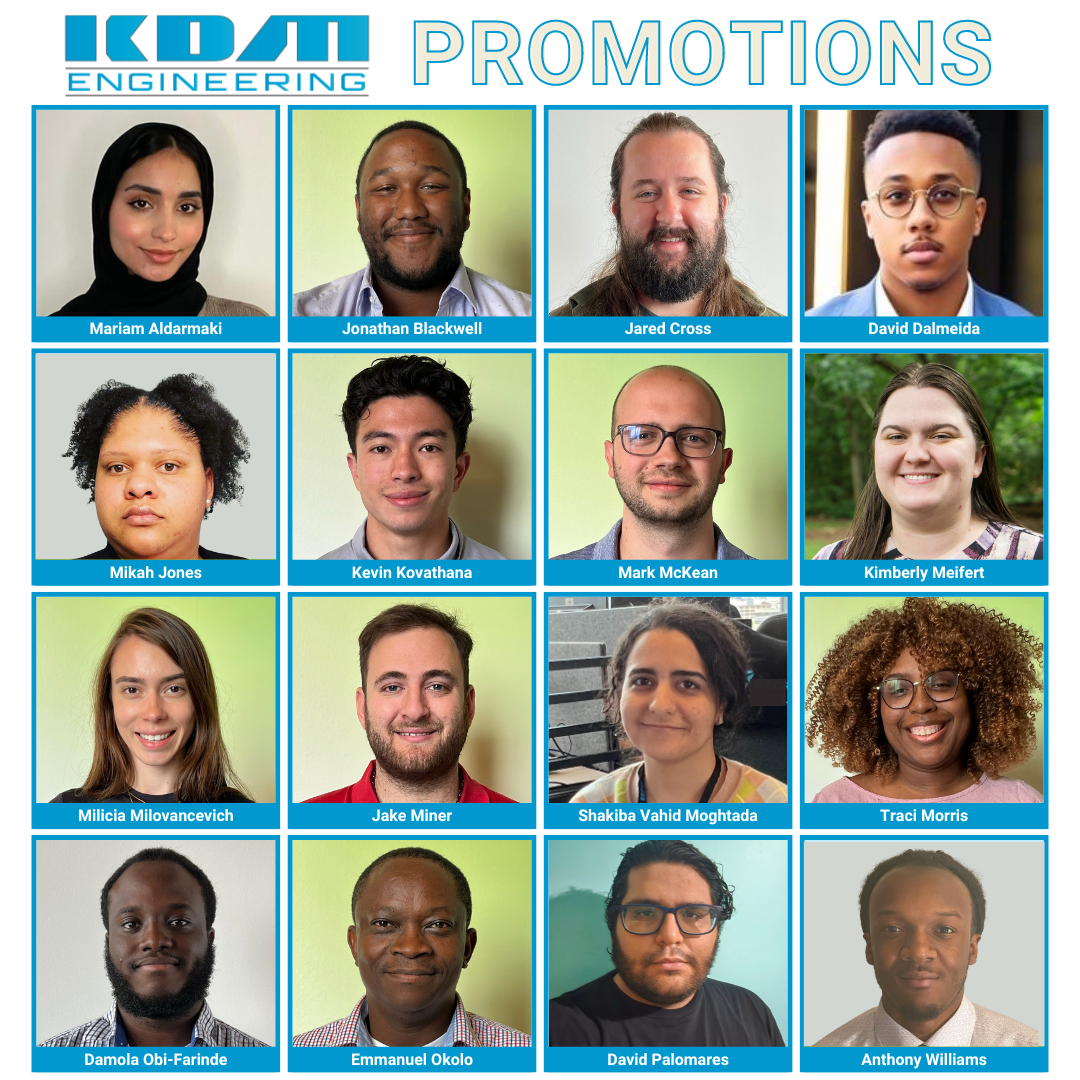 Congratulations to the KDM Engineering team members who recently earned promotions and new opportunities within our firm. We believe in professional and personal growth, and we empower each employee to create their own path to success with the company's full support. Please join us in recognizing their outstanding accomplishments.
Mariam Aldarmaki is a member of KDM's substation team and was recently promoted to Electrical Engineer I. She first joined the team in November 2021 after being drawn to the growth opportunities and culture she saw at KDM. With this promotion, Mariam will be responsible for designing protection and control systems for substations and hopes to develop the skills necessary to independently design a complete substation upgrade. "Being an electrical engineer in substation design is both rewarding and impactful," she says. "It allows for making a significant contribution to the reliable delivery of electricity. With constant challenges and opportunities for growth, it's an exciting career path for those passionate about engineering and power infrastructure."
Jonathan Blackwell started with KDM in October 2021, and in March he was promoted to Senior Drafter. He has worked on a variety of projects in the drafting department including permit drawings, staking, cable pulls, and SEL drawings. Jonathan said when choosing a place to work he noticed an environment at KDM unlike anything he previously experienced. In his new role he is excited to dive deeper into the technical side. He is reviewing new requests sent to the department, learning team management skills, and furthering his personal understanding of organization and team coordination. His goal is to impact the department by implementing new standards and processes while also ensuring that deadlines are met. His manager described him as a great asset to the team and noted that Jonathan is always taking notes, saying he truly believes this has helped him stay consistently on top of his projects.
Jared Cross joined the KDM Team in June 2022, and in March he was promoted to Electrical Engineer II. Jared describes his role as challenging and fun, saying he often gets to explore difficult situations and propose unique solutions using his knowledge of the distribution system and his creativity. He says this is especially true when he is working on facility relocation work for our clients in advance of upcoming construction. In his new role he hopes to make an impact by reducing the likelihood of delays through closer communication with outside engineering teams, construction crews, municipalities, and the end customer. Jared enjoys speaking to construction crews to learn their processes and discuss ways to improve designs for increased construction feasibility.
David Dalmeida was recently promoted to Electrical Engineer II at KDM. Since joining KDM in June 2022, David has primarily been responsible for design work on the voltage optimization program. This work includes fielding to collect preliminary information, designing the project to the client's standards, and completing a post construction walk down to note any changes made during construction. In his new role he is looking forward to learning more about the back end of KDM's work including the bid process and cash flow, both of which will give him a more complete picture of the business side.
Mikah Jones has been with KDM Engineering since January 2022 and was recently promoted to Electrical Engineer I. With this promotion, Mikah hopes to continue to improve her communication skills as well as her problem-solving skills to help her complete her projects more efficiently. She is also looking forward to gaining more experience and increasing her knowledge of electrical engineering and the distribution system so she can take on more challenging projects and assist her fellow engineers on their work.
Kevin Kovathana was recently promoted to Electrical Engineer I at KDM. The quality manager at KDM describes Kevin as a fast learner. "Kevin has been able to quickly learn multiple client requirements and their systems." With this promotion Kevin is looking forward to gaining a more complete understanding of KDM's work. Instead of just looking at a project as a start and end, his goal is to understand why we are doing a specific task and how each action fits into the overall electrical system. Along the way he hopes to be able to support new engineers through challenges that he faced when he first started. When asked why he chose to join KDM in April 2022, Kevin credited his instinct. "After meeting the team and interviewing, I just had this gut feeling that this was the right place to be to start my career."
Mark McKean joined KDM in January 2021 and was promoted to Electrical Engineer II in March. Prior to his promotion, Mark focused on Fiber Make-Ready projects where, among other things, he would analyze the current pole load and determine any additional work that would be required before additional services could be added to that pole. In his new role, Mark is looking forward to working on a broader range of projects and gaining a more complete understanding of the distribution system. Mark's manager said: "Mark has shown himself to be someone who we can always lean on when needed. He also takes time out of his busy schedule to support other departments."
Kimberly Meifert has been with KDM since January 2022, and in March she was promoted to Electrical Engineer I. She mentioned communication as one of the critical skills required for success as an engineer. "Every project requires communication – whether it's communicating with Permitting or working with our Drafting and Civil Departments or providing construction support. Engineering is not a job you can do solo."  Her main responsibility has been design work, and as a team captain, she also helps newer engineers get up to speed to complete AMIDA design work. In her new role, Kim is looking forward to working on a wider range of projects and having the opportunity to work on more complicated designs. She hopes to learn more and use that knowledge to mentor new engineers.
Milicia Milovancevich joined KDM in April 2022 as a Graduate Engineer, and in March she was promoted to Electrical Engineer I. Prior to her promotion, Mili worked on a wide range of projects including AMIDA, facility relocations, capacity expansions, 4-12kV conversions, and overhead to underground conversions. As an Electrical Engineer, Mili is looking forward to expanding her technical knowledge around distribution systems. She also hopes to use this opportunity to become an exceptional leader among the team and train incoming engineers, so they are well equipped to succeed.
Jake Miner joined KDM in January 2022 and was recently promoted to Electrical Engineer II. He is currently the team captain of the VO team and responsible for completing VO design work as well as helping train new team members. Jake is excited about the opportunity to make an impact on the organization by closely reviewing the bidding process and ensuring it is quick and smooth. He hopes to increase his understanding of how everything ties together on projects including client relationships. Jake wants his coworkers to know he is always available to help and answer any questions, even while working on larger projects.
Shakiba Vahid Moghtada has been with KDM since May 2022, and in March she was promoted to Electrical Engineer I. In her new role, Shakiba is looking forward to expanding her knowledge of distribution engineering and in turn being able to propose the most cost-effective and practical design solutions for our clients. Her goal is to continue to be a good resource for incoming engineers and use her knowledge to answer their questions and support them in their work. Her manager describes her as a pleasure to work with and noted that Shakiba has proven to be a very hard worker and often seeks out information herself before reaching out for help.
Traci Morris joined KDM in May 2021 and in March, she was promoted to Senior Drafter. Her projects have included permitting drawings, MOT designs for our East Coast office, and work for Ameren and AEP. Her manager noted that the East Coast projects in particular helped Traci broaden her knowledge and problem-solving abilities to meet different clients' needs.  She was initially drawn to KDM by its diversity, and she says that as a black woman herself, she was impressed and excited to work for an engineering company owned by a black woman. In her new role, Traci hopes to be a resource for other team members. "When I first started here, my peers were more than willing to teach me and lend a helping hand when I needed it, and I believe that made my work experience here more meaningful. I hope that with my experience here, I can help someone else the same way."
Damola Obi-Farinde chose to join KDM in November 2021 after he saw opportunities for professional growth, collaboration with experienced engineers, and a diverse range of projects that would allow him to continue to learn and develop a versatile skill set as an engineer. In March, Damola was promoted to Electrical Engineer I. With this promotion, he is looking forward to taking charge of the new projects assigned to him individually and using the experience and practices he has learned at KDM to solve problems more effectively as they arise.
Emmanuel Okolo joined KDM in July 2022 and was recently promoted to Electrical Engineer II. He is looking forward to learning quality leadership skills, leading projects, mentoring other team members, and taking on new challenges as he continues to grow professionally. Emmanuel has a passion for innovation and new challenges and was drawn to KDM when he read in the vision statement "changing the energy infrastructure to help light up the world." Prior to his promotion, he worked on projects including joint use make-ready analysis, relocations or modifications of overhead and underground distribution, and distributed energy resource combined studies. This work is crucial for our clients to ensure the disruption system is safe, robust, and reliable.
David Palomares has been with KDM since November 2021, and in March he was promoted to Electrical Engineer I. Prior to his promotion, David's primary responsibility was completing make-ready analyses on behalf of ComEd while being cost effective in his designs. In his new role, David is excited to show off the skills he has learned, while also taking on a leadership role. As a leader, David hopes to ensure projects have a nice flow and that the team knows where to start their work, what to look for, and where to look when issues arise. David says he wants to see others succeed and will work with individuals as much as needed until they feel comfortable with their work. He believes this support also helps him gain an understanding of where he is himself as an engineer.
Anthony Williams joined KDM in November 2021 and was recently promoted to Electrical Engineer I. The quality manager at KDM noted that Anthony has worked on some of our more complicated new business and underground designs. "Anthony isn't afraid of a challenge!" In his new role, Anthony is excited to learn more about electrical engineering and help other engineers, so they don't run into the same pitfalls he experienced. He also hopes to have the opportunity to take the lead on projects and find solutions on his own. He described this promotion as an important milestone for his own career, saying it helps him gain an understanding of where he is, what he knows, and where he can grow. In January, our client sent in this kind message about Anthony "Your input is critical, and we really appreciate your dedication to our project!"