Back to top
NIU Students Visit KDM Engineering, Receive Career Advice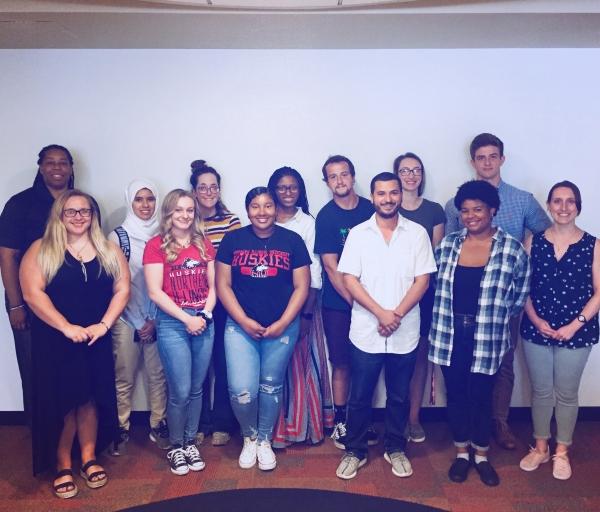 We were excited to welcome a group of Northern Illinois University students in the Summer Research Opportunities Program to KDM on Thursday, August 1. The students, varying in year and major, received a firsthand look at a diverse work environment and learned what skills and experience employers are looking for in new hires. Touring KDM's Chicago office, students were able to experience our work hard – play hard culture, seeing engineers working in our open floor plan space, as well as our pool table, beer tap, and arcade games setup for work breaks.
Kimberly Moore, KDM's President & Founder, and also NIU Engineering alum, offered students some advice as they embark on the transition from school to career. An entrepreneur herself, Moore explained that you don't necessarily have to start your own business to be considered one. You can be an entrepreneur within your company, starting groups and implementing new ideas. But before selecting the company you want to work for, Moore advised students to consider a few things:
Will I be able to make an impact at this company?
Is the culture a good fit for me?
Does the company offer opportunities for career progression?
An important theme that both Moore and our employee panel touched on was making the most of every opportunity to learn, no matter where you are or what you're doing. Don't be afraid to ask questions, Moore said. And if you want to learn something from someone, take an interest in them as a person to start building a relationship. People are more inclined to help people who make an effort to know them as a person.
Similarly, our employee panel warned against only contacting mentors when you need help. Reach out regularly to stay in touch. Keep up with what's happening in your mentor's personal and professional lives. Beyond mentorship, our employee panel offered a lot of resume and interview advice, as well as discussing what students should look for when deciding on a company. For most, the road to KDM had a lot of twists and turns and just a few bumps along the way. The important thing is to learn everything you can from every experience to keep moving toward your career goals.